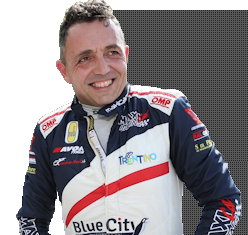 Cem
lun 7 mag 2018
Christian Merli competing at the Rampa International da Falperra
Osella FA 30 factory driver Christian Merli is tackling the 2,300 km trip to Braga in northern Portugal to participate in the 39th Rampa Internacional da Falperra. It is the 3rd round of the European Hill Climb Championship, where there will also be Gino Pedrotti with his Formula Renault, making his debut on the ultrafast track in the E2-SS 2000 class. Merli, leader of the Team Blue City Motorsport, finished second in France while taking the victory at Rechberg in Austria.
The European championship standings
Christian Merli, the Trentino driver racing for the Scuderia Vimotorsport, is currently topping the Category 2 ranking with 50 points, the same as Andrea Bormolini, followed by Simone Faggioli at 43 points and Sébastien Petit at 40.

Portugal 2017
Last year Faggioli won the race in the Norma, setting a new track record at 1'48"686, with Merli placing second.
The Portuguese race in Christian's words
"There are two race heats of 5.200 km each. A very fast track, where you reach speeds of over 250 km/h. Three practice heats. The track? The start, a straight stretch and a fast left-hand bend to be taken in 4th gear. A straight and a right-hand bend in 3rd gear, then a straight going upward, followed by a series of very fast S-shaped bends. Braking hard for a left-hand hairpin, then a very fast mixed stretch and a wide chicane. Next the stretch where you reach maximum speed and a brow with a downhill stretch in 6th gear. A 3rd gear right-hand bend, a left-hand hairpin, a straight, and the finish line. No time to breathe. The slightest error and you've lost the race."

20 May, Subida al Fito in Spain
"Actually we won't be going home but will be making a trip of around 500 km to take part in the 4th round of the European championship, the 46th Subida al Fito, north of Oviedo."

The European Hill Climb Championship calendar
15 April: Col Saint Pierre (France), 22 April: Rechbergrennen (Austria), 13 May: 39ª Rampa Internacional da Falperra (Portugal), 20 May: 47ª Subida al Fito (Spain), 3 June: Ecce Homo (Czech Republic), 10 June: Glasbachrennen 2018 (Germany), 24 June: Coppa Paolino Teodori (Italy), 22 July: 35ª Dobsinsky Kopec (Slovakia ), 29 July: Limanowa (Poland), 19 August: Course de Côte de Saint Ursanne (Switzerland), 2 September: Bistrica (Slovenia), 16 September: Buzetski Dani (Croatia).

Ruth Scheithauer
Appuntamenti
>Christian domenica in gara in Croazia
Foto & Video
2020 MERLI 1 CROAZIA