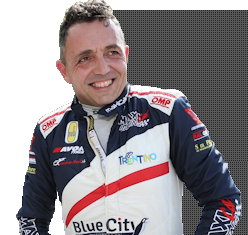 Cem
mar 15 mag 2018
Christian Merli racing at the Subida al Fito in Spain
After taking 2nd place at the 39th Rampa Internacional da Falperra in Portugal, only 0"472 behind Simone Faggioli in the Norma M20 FC, Christian Merli has travelled to north of Oviedo in Spain, where he will be racing at the 47th Subida al Fito, the 4th round of the European Hill Climb Championship, on Sunday. The Scuderia Vimotorsport driver is currently leading the standings in Category 2 with 75 points, topping Group E2-SS and tied with Andrea Bormolini, whereas Simone Faggioli, while dominating among the E2-SC two-seater sports cars, has 68 points.
The Team Blue City Motorsport driver describes the Spanish race
"A track of 5.350 km. There are three practice heats on Saturday and another one on Sunday morning, followed by the two race heats. The track is very technical with a series of fast bends, a chicane to reduce the speed, and then the final section in the forest, where there is often residual humidity. I like this race, and obviously we count on the weather."
The record
The track record stands at 2'27"540, established by Faggioli in 2016. Last year Merli won the race by a comfortable margin, coming out on top in both race heats.
Gino Pedrotti
On the starting grid of the Subida al Fito there will also be Gino Pedrotti in his Formula Renault 2000. This track is another debut for him, and he hopes to replicate his result from Falperra, where he won his 2000 cc class, took 2nd place in Group E2-SS and finished 14th overall. Not to forget Migliuolo, who will battle it out with three opponents each racing a Mitsu N, vying for full points.

The European Hill Climb Championship calendar
15 April: Col Saint Pierre (France) – winner Sébastien Petit (Norma M20 FC), 22 April: Rechbergrennen (Austria) – winner Christian Merli (Osella FA 30), 13 May: 39ª Rampa Internacional da Falperra (Portugal) – winner Simone Faggioli (Norma M20 FC), 20 May: 47ª Subida al Fito (Spain), 3 June: Ecce Homo (Czech Republic), 10 June: Glasbachrennen 2018 (Germany), 24 June: Coppa Paolino Teodori (Italy), 22 July: 35ª Dobsinsky Kopec (Slovakia), 29 July: Limanowa (Poland), 19 August: Course de Côte de Saint Ursanne (Switzerland), 2 September: Bistrica (Slovenia), 16 September: Buzetski Dani (Croatia).

Ruth Scheithauer
Appuntamenti
>Christian domenica in gara in Croazia
Foto & Video
2020 MERLI 1 CROAZIA