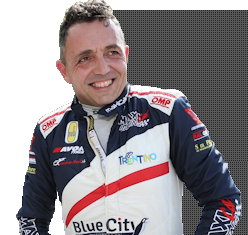 Civm
lun 28 mag 2018
Christian Merli wins at Verzegnis
A splendid weekend for Christian Merli. In the 49th Verzegnis – Sella Chianzutan in northeastern Italy, the 2nd round of the Italian hill climb championship CIVM, the Team Blue City Motorsport driver dominates from the first practice run at the wheel of the Osella FA 30 and goes on to win both Race 1 and Race 2. He also sets a new track record at 2'24"22. Bagging 20 points, he vaults himself to the summit of the CIVM points standings.
Victory and record for Christian
"Everything went well in what was a difficult race, influenced by the weather conditions. The organisers did a great job, although I think 280 cars are perhaps too many in a race. It has been an extraordinary weekend, and I dedicate the victory to my friend and mechanic Giuliano Serafini, with whom I've been working on the car until late into the nights. I'm particularly happy with Race 2. Victory and record. I have to add that I'm not allowed any mistakes, because we're now leaving for the Ecce Homo Šternberk, the 5th round of the European championship, in the Czech Republic."

Verzegnis – Sella Chianzutan
The 49th Verzegnis – Sella Chianzutan, the 2nd round of the CIVM, also counts for the northern Italy hill climb trophy and the Austrian and Slovenian championships. Two race heats of 5.640 km each.

Practice
In the first official practice run, Christian Merli in his Osella FA 30 tops the timesheet in 2'29"29. The second session sees Christian in command too.
Race 1
In Race 1 on Sunday an opponent crashes shortly before Christian is due to take the start. There follows a long interruption to fix the armco barriers, with a rain shower in the meantime. Merli, who races for the Scuderia Vimotorsport, gets off the line on the damp track around 3pm and, on slicks, posts the best time.
Race 2
The second session starts at 4pm, with Christian in a brilliant form. He wins carving two seconds off his own track record. Behind him there are Cubeda and Magliona.

The overall podium
1st Merli (Osella FA 30), 2nd Cubeda (Osella FA 30) 6"92 behind, 3rd Magliona (Norma M20 FC) 7"74 behind.

The calendar of the 2018 Italian hill climb championship CIVM
6 May: Alpe del Nevegal (Belluno province) – winner Omar Magliona (Norma M20 FC), 27 May: Verzegnis – Sella Chianzutan (Friuli Venezia Giulia region) – winner Christian Merli, 10 June: Coppa Selva di Fasano (Apulia), 24 June: Coppa Paolino Teodori (Marche), 1 July: Trento – Bondone (Trentino), 22 July: Salita Morano Campotenese (Calabria), 5 Aug: Trofeo Scarfiotti (Marche), 19 Aug: Trofeo Luigi Fagioli (Umbria), 2 Sept: Pedavena – Croce d'Aune (Veneto), 16 Sept: Monte Erice (Sicily), 23 Sept: Coppa Nissena (Sicily), 7 Oct: Luzzi Sambucina (Calabria).

Ruth Scheithauer
Appuntamenti
>Christian domenica in gara in Croazia
Foto & Video
2020 MERLI 1 CROAZIA