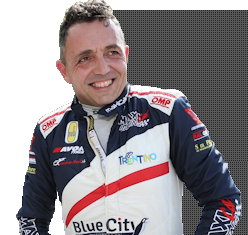 Cem
lun 2 lug 2018
Christian Merli triumphs at the Trento – Bondone
Christian Merli, at the wheel of the Osella FA 30 Zytek LRM, wins the 68th edition of the Trento – Bondone in 9'21"53. Organised by the Scuderia Trentina in collaboration with the Automobile Club Trento, it is the 5th round of the Italian hill climb championship CIVM and also counts for the northern Italy hill climb trophy, the FIA Int. Hill Climb Cup and the FIA Historic Hill Climb Championship. A single heat on the 17.3 km track, which has an altitude difference of 1350 m and includes 42 hairpins and over 180 bends. The race is unique in Europe, and it is a tough test both for the cars and for the drivers' stamina.
Looking at the podium, Michele Fattorini finishes second, 10"88 behind, and Diego Degasperi third, 18" behind. Three Osella FA 30 at the top of the final table.
It is a very emotional moment when Antonio Zadra arrives, the last Trentino driver to win the Trento – Bondone, on board of a Fiat Abarth 2000 in 1970. Standing ovations for the 83-year-old as he gives Christian a hug. After 48 years he passes the baton. Celebrations start immediately. Fans, friends and family gather round the winner. Hugs from the opponents. The Team Blue City Motorsport driver can hardly believe it. A fantastic season: four victories in seven European championship races, three overall wins in five CIVM races, plus the win in Race 1 at Nevegal. And the records? Six in seven European events and three in the Italian championship. He is currently the single leader of both the European and the Italian standings.

Parc fermé
The Scuderia Vimotorsport driver has just won the 68th edition of the Trento – Bondone in 9'21"53. He parks his car but leaves the engine running. After a few minutes he switches it off. He gets out of his car, takes his helmet off and measures the tyre pressure. The bystanders break into applause. The marshals have a hard time keeping the public back. Christian is dazed. He gets assaulted by the media. After 48 years, a driver from Trentino has won again.
The winner's comments
"I am overjoyed. On the way up to Sardagna I slid a couple of times on the slippery track. So I didn't want to exaggerate and did everything I could to get the FA 30 to Vason. In fact I was a few seconds slower than in 2017. We've got a perfect car in the medium-fast stretches, but we lose in the tight hairpins. I could not afford to make any mistakes today. My legs are trembling, I'm really moved, and I dedicate this victory to all those who are working together with me on this project."
Antonio Zadra, winner in 1970
"It was liberating for me too. Too much time had passed since my victory, more than an era. Of the Trento – Bondone in 1970 I mainly remember the crowds. The battle was more closely-fought in my time. I recall that the first ten were all within just a few seconds. In any case, going fast is always hard. The cars change, but you still have to get them to the finish line and try to use their potential to the best. After 1970 I nearly won twice more. The first time the car deserted me, the second time I made a mistake when I was 15 seconds ahead halfway up the mountain. I am very happy for Christian Merli, and glad to have witnessed this performance. I still wouldn't mind racing myself."

The ranking
1st Merli (Osella FA 30 Zytek LRM), 2nd Fattorini (Osella FA 30) 10"88 behind, 3rd Diego Degasperi (Osella FA 30) 18" behind.

The calendar of the 2018 Italian hill climb championship CIVM
6 May: Alpe del Nevegal (Belluno province) – winner Omar Magliona (Norma M20 FC), 27 May: Verzegnis – Sella Chianzutan (Friuli Venezia Giulia region) – Christian Merli, 10 June: Coppa Selva di Fasano (Apulia) – Magliona, 24 June: Coppa Paolino Teodori (Marche) – Merli, 1 July: Trento – Bondone (Trentino) – Merli, 22 July: Salita Morano Campotenese (Calabria), 5 Aug: Trofeo Scarfiotti (Marche), 19 Aug: Trofeo Luigi Fagioli (Umbria), 2 Sept: Pedavena – Croce d'Aune (Veneto), 16 Sept: Monte Erice (Sicily), 23 Sept: Coppa Nissena (Sicily), 7 Oct: Luzzi Sambucina (Calabria).

Ruth Scheithauer
Appuntamenti
La prossima gara CEM sarà il 2 giugno in Repubblica Ceca dove è in programma la cronoscalata Ecce Homo
Foto & Video
Subida al Fito (Spagna)