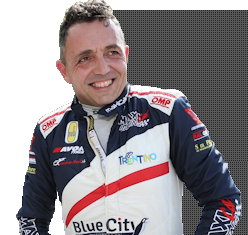 Cem
lun 16 lug 2018
The Team Blue City Motorsport in Slovakia
After the victory in "his" Trento – Bondone, Christian Merli has travelled to Dobšiná in central Slovakia for the 35th edition of the Dobšinský kopec hill climb on Sunday, the 8th round of the European Hill Climb Championship.
The Scuderia Vimotorsport driver has dominated four of the seven races that have taken place so far and is the sole leader of the standings with 150 points. Behind him, Bormolini has 137.5 points, Vitver 133, Petit 113 and Faggioli 111.
Christian Merli took his most recent European championship victory at the wheel of his Osella FA 30 Zytek LRM in Ascoli, a win which also counted for the Italian hill climb championship. On top of that, he established yet another track record.
Christian Merli's European Hill Climb Championship
The win in Ascoli was Christian Merli's fourth victory in the European championship this season. He set six new track records in seven European races, plus three in the Italian championship.
The Trento – Bondone
"I am very happy. After 48 years a driver from Trentino has returned to the top step of the podium. We had to secure the result, and we did. At the parc fermé of Rocce Rosse, there was Antonio Zadra waiting for me, the winner of the 1970 edition. We used to see each other almost every year, and he was always encouraging me. This year, our encounter was particularly emotional for both of us. It's also the third victory in the Italian championship, after five races."
Now in Slovakia
"A track which is well suited for our FA 30. We've been working a lot on the setup recently. Last year we finished second. Our main objective on Sunday is to win Group E2-SS, but we'll certainly give our all to put in a top performance. I'm sure it will be a hot battle with Simone Faggioli."
The weekend at Dobšinský kopec
"There are two practice heats scheduled on Saturday and two race heats on Sunday. The track is 6.810 km long. A very fast hill climb, where Faggioli holds the record at 2'15"783, established in 2017. The start is immediately followed by a hairpin, then a straight with bends to be taken in high gears and a 90 degree left-hand corner. A couple of double bends and then a one-kilometre straight stretch. An extremely fast section with more double bends, and two hairpins at about one kilometre before the finish line."

The European Hill Climb Championship calendar
15 April: Col Saint Pierre (France) – winner Sébastien Petit (Norma M20 FC), 22 April: Rechbergrennen (Austria) – Christian Merli (Osella FA 30), 13 May: 39th Rampa Internacional da Falperra (Portugal) – Simone Faggioli (Norma M20 FC), 20 May: 47ª Subida al Fito (Spain) – Faggioli, 3 June: Ecce Homo (Czech Republic) – Merli, 10 June: Glasbachrennen 2018 (Germany) – Merli, 24 June: Coppa Paolino Teodori (Italy) – Merli, 22 July: 35th Dobšinský kopec (Slovakia), 29 July: Limanowa (Poland), 19 August: Course de Côte de Saint Ursanne (Switzerland), 2 September: Bistrica (Slovenia), 16 September: Buzetski Dani (Croatia).

Ruth Scheithauer

Appuntamenti
La prossima gara CEM di Christian è a Rechberg in Austria il 28 aprile
Foto & Video
Col Saint Pierre (Francia)