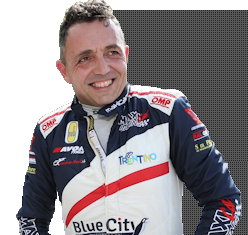 Cem
mar 24 lug 2018
Christian Merli starting in Poland
After the beautiful victory at the 35th edition of the Dobšinský kopec hill climb last Sunday, the 8th round of the European Hill Climb Championship, the Team Blue City Motorsport truck has left for Limanowa south of Krakow in Poland. On Sunday, Christian Merli will be lining up there for the 6th of the 12 rounds of the European Hill Climb Championship.
The 2018 standings to date
The Scuderia Vimotorsport driver at the wheel of the Osella FA 30 Zytek LRM has dominated five of the eight races held so far and is the sole leader of the standings with 175 points. Behind him there are Andrea Bormolini (162.5 points), Vitver (151), Capucci (117), Petit (113) and Faggioli (111). Last Sunday Christian Merli also broke the seventh record in eight races. At Limanowa, the Trentino driver won the last two editions and last year he set a new track record at 1'53"546.
The Polish weekend in Merli's words
"Saturday starts with a free practice run to try out the car and the track. Then two official practice sessions and another free practice run. One more optional practice session on Sunday morning, followed by the two race heats."
The track
"Two race heats on the 5.493 km track where we took the victory in the last two years. Fast, with a couple of hairpins and a series of double bends to be taken in high gears. The surface is slippery."

The European Hill Climb Championship calendar
15 April: Col Saint Pierre (France) – winner Sébastien Petit (Norma M20 FC), 22 April: Rechbergrennen (Austria) – winner Christian Merli (Osella FA 30), 13 May: 39th Rampa Internacional da Falperra (Portugal) – winner Simone Faggioli (Norma M20 FC), 20 May: 47ª Subida al Fito (Spain) – winner Simone Faggioli, 3 June: Ecce Homo (Czech Republic) – winner Christian Merli, 10 June: Glasbachrennen 2018 (Germany) – winner Christian Merli, 24 June: Coppa Paolino Teodori (Italy) – winner Christian Merli, 22 July: 35th Dobšinský kopec (Slovakia) – winner Christian Merli, 29 July: Limanowa (Poland), 19 August: Course de Côte de Saint Ursanne (Switzerland), 2 September: Bistrica (Slovenia), 16 September: Buzetski Dani (Croatia).

Ruth Scheithauer
Appuntamenti
La prossima gara CEM di Christian è a Rechberg in Austria il 28 aprile
Foto & Video
Col Saint Pierre (Francia)