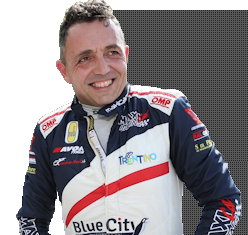 Cem
lun 13 ago 2018
Christian Merli racing at Saint-Ursanne in Switzerland
After the victory at Sarnano at the wheel of the Osella FA 30 Zytek LRM, Team Blue City Motorsport leader Christian Merli is travelling to Switzerland for the 10th of the twelve rounds of the European Hill Climb Championship: the 75th Course de Côte de Saint-Ursanne, west of Basel and close to the French border, on Sunday. Last year Merli finished second overall, having however established a new track record in 1'41"530.
The victories in the European championship
To date, the Osella works driver has won in Austria in April, in the Czech Republic, Germany and Italy in June, and in Slovakia and Poland in July. Six overall wins in nine rounds.
The track in Christian's words
"Very fast. Starting in the middle of the little town, there is immediately a very challenging double bend. Then it gets flatter and there are a couple of straights where you reach 250 km/h. Next a left-hand bend to be taken almost at full throttle, 5th or 6th gear, underneath the motorway viaduct, leading to a large natural amphitheatre crowded with spectators. Quite a challenging mixed section in the forest, and about one kilometre before the finish line a tricky left-hand bend which tightens up, followed by a right-hand hairpin, a straight stretch of about 100 m, and a left-hand hairpin. Finally another right-hand hairpin before you cross the finish line. The track is 5.180 km long and has a gradient of 10%. Three practice heats and two race heats."

The goal
"I'll have to be very alert. It's extremely important to take home maximum points in Group E2-SS, ie among the single-seaters. Of course you're always keen to grab the overall win. Like I said, it's a fast race, very demanding, where you're not allowed any mistakes."

The European Hill Climb Championship standings
1st Merli (200 points), 2nd A. Bormolini (187.5), 3rd Vitver (169), 4th Capucci (117), 5th Petit (113), 6th Faggioli (111), 7th Degasperi (100).

The European Hill Climb Championship calendar
15 April: Col Saint Pierre (France) – winner Sébastien Petit (Norma M20 FC), 22 April: Rechbergrennen (Austria) – winner Christian Merli (Osella FA 30), 13 May: 39th Rampa Internacional da Falperra (Portugal) – winner Simone Faggioli (Norma M20 FC), 20 May: 47ª Subida al Fito (Spain) – winner Simone Faggioli, 3 June: Ecce Homo (Czech Republic) – winner Christian Merli, 10 June: Glasbachrennen 2018 (Germany) – winner Christian Merli, 24 June: Coppa Paolino Teodori (Italy) – winner Christian Merli, 22 July: 35th Dobšinský kopec (Slovakia) – winner Christian Merli, 29 July: Limanowa (Poland) – winner Christian Merli, 19 August: Course de Côte de Saint Ursanne (Switzerland), 2 September: Bistrica (Slovenia), 16 September: Buzetski Dani (Croatia).

Ruth Scheithauer

Appuntamenti
La prossima gara CEM di Christian è a Rechberg in Austria il 28 aprile
Foto & Video
Col Saint Pierre (Francia)