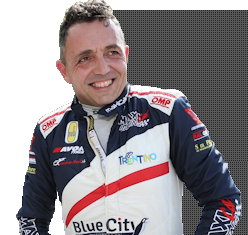 Cem
lun 27 ago 2018
Christian Merli racing at Bistrica in Slovenia
The current standings of the European Hill Climb Championship show Osella works driver Christian Merli in the lead with 225 points. Behind him there are his compatriot Andrea Bormolini (205.5), the Czech Vitver (181.5), Faggioli (136), Capucci (117) and Degasperi (115). There are thus only two races left for the Team Blue City Motorsport leader – in Slovenia and in Croatia – before the European Hill Climb Championship comes to an end.
Christian's victories
To date, the champion from Trentino racing the Avon-shod Osella FA 30 Zytek LRM for Scuderia Vimotorsport has dominated six of the ten rounds of the European championship: Austria, the Czech Republic, Germany, Italy, Slovakia and Poland. He has won Group E2-SS nine times and has set no less than eight new track records.
The Slovenian track in Christian's words
"A race near Maribor, close to the Austrian border. There are three practice heats and two race heats on the 5.010 km track. It starts with a fast mixed section with bends to be taken at full throttle, then you brake hard for a chicane. Next, a brow and a brief dip, then demanding 3rd and 4th gear bends going uphill. A left-hand hairpin bend, then two more hairpins alternating with two straights and a large right-hand bend followed by a fast straight with another chicane in the middle. Then a left-hand bend at full throttle leading to a challenging 4th gear right-hand corner. Shortly thereafter, the finish line."

The driver's comments
"At this point it is imperative that we win the single-seater Group E2-SS. This is the main goal, and we count on the weather. The forecast is currently uncertain."

The European Hill Climb Championship calendar
15 April: Col Saint Pierre (France) – winner Sébastien Petit (Norma M20 FC), 22 April: Rechbergrennen (Austria) – winner Christian Merli (Osella FA 30), 13 May: 39th Rampa Internacional da Falperra (Portugal) – winner Simone Faggioli (Norma M20 FC), 20 May: 47ª Subida al Fito (Spain) – winner Simone Faggioli, 3 June: Ecce Homo (Czech Republic) – winner Christian Merli, 10 June: Glasbachrennen 2018 (Germany) – winner Christian Merli, 24 June: Coppa Paolino Teodori (Italy) – winner Christian Merli, 22 July: 35th Dobšinský kopec (Slovakia) – winner Christian Merli, 29 July: Limanowa (Poland) – winner Christian Merli, 19 August: Course de Côte de Saint Ursanne (Switzerland) – winner Simone Faggioli, 2 September: Bistrica (Slovenia), 16 September: Buzetski Dani (Croatia).

Ruth Scheithauer
Appuntamenti
La prossima gara CEM di Christian è a Rechberg in Austria il 28 aprile
Foto & Video
Col Saint Pierre (Francia)