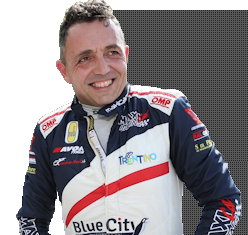 Varie
lun 15 ott 2018
Christian Merli wins the FIA Hill Climb Masters at Gubbio
At the wheel of his Osella FA 30 Zytek LRM Christian Merli dominates the FIA Hill Climb Masters 2018 at Gubbio in Italy. Two practice heats, and then the Team Blue City Motorsport leader goes on to win the three race heats scheduled on Sunday, getting faster in each session and concluding an extraordinary season with another victory. He is European and Italian champion and secures the coveted FIA Masters 2018 title. A great battle with Faggioli, who finishes second.
Christian's reaction
"I don't know whether it's a dream. It's amazing. The icing on the cake after a magnificent season. I can't believe it yet. Everything went just perfectly, and the team has been incredible. Today? This morning it was crisp and in the first section I didn't drive the way I'd have wanted. In the second run some slight errors and then, finally, thanks to the soft tyres supplied by Avon, we posted a fantastic time. I'm very happy. What a year! I can hardly believe it. After so much effort we've now been rewarded."
Gubbio and the FIA Hill Climb Masters 2018
For the first time the prestigious medieval town of Gubbio was the backdrop of this great event, which brought together the stars of the European hill climb circus: 169 drivers from 22 countries all over Europe.
Practice
The hill climb olympics, which are held every two years, open with the first practice run on Saturday, where the battle between the big players begins immediately. Faggioli in the Norma M20 FC posts the best time on the 3.310 km track going up to Madonna della Cima: 1'21"84. Merli is 0"65 behind. In the second practice run in the afternoon, the new Italian and European champion 2018 is first, Faggioli second.
The race
The first of the three race heats takes place on Sunday morning. It is a phenomenal event with drivers from all over Europe, but it is again Italy taking the lead, with Merli finishing in 1'18"48. Faggioli gets off the line with a lot of commitment, but he spins and damages the rear wing. In the second session, Merli again sets the best time, shaving off another 0"19, with Faggioli behind him. In the third run, Merli conquers the third victory of the day in the stunning time of 1'17"85. Faggioli is second, 0"72 behind.

The podium
1st Merli (Osella FA 30 Zytek LRM) with the overall best time of 1'17"85, 2nd Faggioli (Norma M20 FC) 0"72 behind, 3rd Petit (Norma M20 FC) 2"05 behind.

Ruth Scheithauer

Appuntamenti
La prossima gara è la 9ª Morano - Campotenese in Calabria, in programma domenica 16 giugno e valida come 5° round del CIVM
Foto & Video
Morano (Italia)