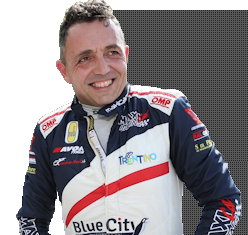 Varie
lun 17 dic 2018
Christian Merli 3rd overall at the Prealpi Master Show rally
Christian Merli wins overall bronze at the 20th Prealpi Master Show, the third round of the Challenge Raceday Rally Terra. A triumphant performance, since he was beaten only by Marchioro and Trentin, the first-placed and second-placed, respectively, of the Italian mixed-surface rally championship 2018.
After a two-year break the Scuderia Vimotorsport driver returned to his great passion, the rally. He competed in a Skoda Fabia R5 for the first time, he had a new co-driver, Anna Tomasi, and he closed the season in style, in his very own way: Initially fifth, then sixth, he worked his way up to third place, each run faster than the one preceding it.
Just a few days before, at a ceremony held at Garage Italia in Milan, the Trentino champion had received two prestigious awards: the Casco d'Oro Tricolore of the weekly magazine Autosprint and the Volante ACI Argento 2018 of the Italian automobile federation.
Christian's comments
"I'm very happy. A splendid result and the icing on the cake of this extraordinary 2018. I felt immediately at ease with the Skoda R5 of Team Step Five from Rome. I followed their advice and everything went perfectly. The surface was icy in the first special stage, and then we improved in every run. Obviously, the Italian championship leaders were ahead of me, while I hadn't raced in a rally for two years. There is a lot to learn before you find the right setup for the car. My co-driver Anna Tomasi also did an excellent job. We had a lot of fun, and it was a great race."
Prealpi Master Show
A single "Master Show" special stage, 9.230 km long, to be contested four times. It is still dark when Christian Merli takes the start for the first time, at 6.58 am. With no less than 24 opponents in Group R5, he immediately finishes 5th. In the second run he comes in 6th, in the third one 3rd. In the final special stage he is again 3rd and wins overall bronze.

The podium
1st Marchioro/Marchetti (Skoda Fabia), 2nd Trentin/DeMarco (Skoda Fabia) 4"2 behind, 3rd Merli/Tomasi (Skoda Fabia) 31"3 behind.

Ruth Scheithauer
Image Photozini
Appuntamenti
Christian augura a tutti Buone Feste e v'attende sulla pista ghiacciata a Fiavè
Foto & Video
PREALPI MASTER SHOW