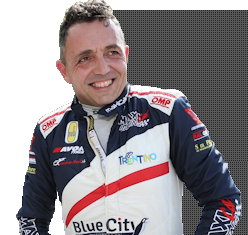 Cem
lun 15 apr 2019
Christian Merli wins in France
Victory and new record for Christian Merli at the 47th Col Saint Pierre hill climb at St. Jean du Gard in southern France, the first round of the European Hill Climb Championship. Having dominated the entire weekend at the wheel of his Osella FA 30 Zytek LRM, the Team Blue City Motorsport driver climbs the winner's step of the podium. Two race heats on the 5.080 km track, of which the times are added up for the participants of the European championship.
Track record
The champion from Trentino established a new track record of 2'14"127 in 2018. He edges it further down in each of the two race heats this year, scoring a 2'13"634 in the final run.
Christian's comments
"The first round has gone well, but my direct opponent is very close, and we must not relax going forward. We improved throughout the weekend and also set a new record. I'd hoped we would, since I'd discovered a few imprecisions when watching last year's onboard video. But the championship looks set to be a closely fought battle. The race was very tight, and we'll have to work hard to prepare for the next round, at Rechberg in Austria on 28 April."

Practice
The weather is sunny and cold for the first official practice run on Saturday, with Merli topping the timesheet in 2'18"985. Second is Geoffrey Schatz, 0"252 behind in his Norma M20 FC, followed by Faggioli in third place, 2"450 behind. In the second practice run, Christian finishes first in 2'16"176, Schatz is second, 1"074 behind, and Faggioli third, 1"496 behind.
Race heat 1
On Sunday morning, Christian Merli crosses the finish line after 2'14"069, shaving 0"058 off his own record. Faggioli is 0"461 behind, French local Petit 2"768.

Race heat 2
The Osella works driver triumphs smashing his record yet again. He sees the clocks stop on 2'13"634, with a determined Faggioli following 0"271 behind. Petit completes the podium, 3"421 behind.

The podium
1st Merli (Osella FA 30 Zytek LRM) in 4'27"703, 2nd Faggioli (Norma M20 FC) 0"732 behind, 3rd Petit (Norma M20 FC) 6"921 behind.

The European Hill Climb Championship calendar
14 April: Col Saint Pierre (France), 28 April: Rechbergrennen (Austria), 12 May: Rampa Internacional da Falperra (Portugal), 19 May: Subida al Fito (Spain), 2 June: Ecce Homo (Czech Republic), 16 June: Glasbachrennen (Germany), 7 July: Trento – Bondone (Italy), 21 July: Dobsinsky Kopec (Slovakia ), 28 July: Limanowa (Poland), 18 August: Course de Côte de Saint Ursanne (Switzerland), 1 September: Bistrica (Slovenia), 15 September: Buzetski Dani (Croatia).

Foto GTFOTO

Ruth Scheithauer
Appuntamenti
Christian augura a tutti Buone Feste e v'attende sulla pista ghiacciata a Fiavè
Foto & Video
PREALPI MASTER SHOW