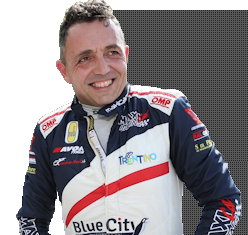 Cem
dom 28 apr 2019
Victory and record for Christian Merli at Rechberg in Austria
Victory and record for Christian Merli at Rechbergrennen, the second round of the European Hill Climb Championship, in Tulwitz, north of Graz. A glorious weekend for the Team Blue City Motorsport leader, who comes out on top in all practice and race heats on the 5.050 km track. After his recent victory and record in France he had taken his Osella FA 30 Zytek LRM to Austria for the three practice heats on Saturday and two race heats on Sunday.
The interview
"The first race heat on Sunday morning was stunning, exceeding all expectations. I couldn't believe it. I smashed my own 2017 record by two seconds. Fantastic. On Saturday we had realised that we might be equipped to win, thanks to the great work of Enzo Osella, the Petriglieri brothers' LRM for the engine, Avon tyres, Oram suspensions and the indefatigable Giuliano. A blistering time with a perfect car. It was my fourth win in Austria. I like the track a lot, and the entire team did a superb job. But the championship has only just started, and there are ten more races coming. Above all, we will try not to make any mistakes. The organisation? Perfect, with a simply amazing crowd."
In 2017, the Scuderia Vimotorsport driver had set the record at 1'52"916. This time, he sees the clocks stop at 1'50"876.
Practice
In the first official practice run, the Osella works driver finishes first, with Faggioli in his Norma M20 FC 4"419 behind, and the other Team Blue City Motorsport driver Christoph Lampert 5"030 behind. In the second run, under a cloudy sky, Christian shaves a second off his earlier time, and Faggioli is 4"035 behind. The third run sees Merli 0"517 below his own record. Faggioli has halved the gap, finishing 2"914 behind.

Race heat 1
Christian dominates the run and clocks an extraordinary new record in 1'50"876. Faggioli is 2"189 behind, followed by Petit, Lampert and Degasperi.
Race heat 2
The defending champion posts again the fastest time, with Faggioli 1"676 behind. Petit from France finishes third overall.

The podium on accumulated times
1st Merli (Osella FA 30 Zytek LRM) in 3'43"083, 2nd Faggioli (Norma M20 FC) 3"814 behind, 3rd Petit (Norma M20 FC) 9"14 behind.

The European Hill Climb Championship calendar
14 April: Col Saint Pierre (France), 28 April: Rechbergrennen (Austria), 12 May: Rampa Internacional da Falperra (Portugal), 19 May: Subida al Fito (Spain), 2 June: Ecce Homo (Czech Republic), 16 June: Glasbachrennen (Germany), 7 July: Trento – Bondone (Italy), 21 July: Dobsinsky Kopec (Slovakia ), 28 July: Limanowa (Poland), 18 August: Course de Côte de Saint Ursanne (Switzerland), 1 September: Bistrica (Slovenia), 15 September: Buzetski Dani (Croatia).

Ruth Scheithauer
Appuntamenti
Christian augura a tutti Buone Feste e v'attende sulla pista ghiacciata a Fiavè
Foto & Video
PREALPI MASTER SHOW