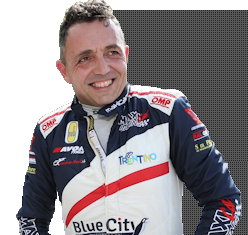 Cem
mar 28 mag 2019
Christian Merli racing at Ecce Homo in the Czech Republic
After his victories in France, Austria, Portugal and Spain and three track records in the first four events of the European Hill Climb Championship, Christian Merli is ready for the 5th round: This coming weekend, the Team Blue City Motorsport leader will be lining up at the "Ecce Homo" hill climb in Šternberk, north of Brno. On the 7.800 km track there will be two official practice heats on Saturday, then two race heats on Sunday. Merli took the top prize here in 2016 and 2018, setting the new track record at 2'41"37. The champion from Trentino, who races for the Scuderia Vimotorsport, currently tops the E2-SS group and Category 2 standings with 100 points, on a par with Simone Faggioli, who leads the two-seater sports car group E2-SC.
How the European championship points are assigned
In the European championship, the points are assigned based on the group ranking, and so far both Merli and Faggioli have won their groups, E2-SS and E2-SC respectively, each time.
Christian's comments
"Winning the group in the Czech Republic is important, since one of the six results of the first half of the season will later be dropped, as per the regulations. There is fierce competition. We hope to aim for the top step of the podium, but every race has to be tackled with the necessary respect. Our opponents are working hard to catch up with us, and we're not even half way through the season. We mustn't let go. The track? Very fast, to be taken high geared. Only three hairpins. A prestigious race with a long tradition, and with top speeds of around 260 km/h. The track is wide and starts with a very fast mixed section. Next a series of double bends, to be taken in high gears as I said, leading up to a fork in the road, where the track widens further. Some more fast half bends and a 3rd gear hairpin. Then you push straight through to the finish line. I must absolutely avoid any errors and aim to win my group."

The European Hill Climb Championship calendar
14 April: Col Saint Pierre (France), 28 April: Rechbergrennen (Austria), 12 May: Rampa Internacional da Falperra (Portugal), 19 May: Subida al Fito (Spain), 2 June: Ecce Homo (Czech Republic), 16 June: Glasbachrennen (Germany), 7 July: Trento – Bondone (Italy), 21 July: Dobsinsky Kopec (Slovakia ), 28 July: Limanowa (Poland), 18 August: Course de Côte de Saint Ursanne (Switzerland), 1 September: Bistrica (Slovenia), 15 September: Buzetski Dani (Croatia).

Ruth Scheithauer
Appuntamenti
Christian augura a tutti Buone Feste e v'attende sulla pista ghiacciata a Fiavè
Foto & Video
PREALPI MASTER SHOW