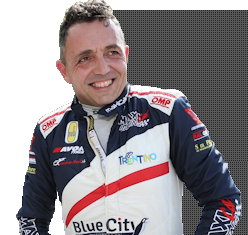 Cem
lun 17 giu 2019
Christian Merli wins at Morano in Calabria
Christian Merli conquers the top step of the podium at the 9th Morano–Campotenese hill climb near Cosenza in Calabria, the 5th round of the Italian hill climb championship CIVM. In 2'39"24 the Osella works driver also smashes Faggioli's old track record. With his Osella FA 30 Zytek LRM Merli dominates all weekend and has thus secured six wins in six races this season, establishing five new records in the process. Forced to discard the results of one race in the first half of the European championship season, the Team Blue City Motorsport leader had chosen to skip Glasbach in Germany for the race in southern Italy with its two practice and two race heats on a 7.100 km track.
Christian, a successful day all around
"Indeed. I'm very, very happy with the results of the entire team. In Germany, Christoph Lampert won Glasbach, and Filippo Golin, in his first outing with the Osella 1000, placed second in class here in Morano. Obviously I'm more than happy with my victory, and it was an excellent test for the new Avon tyres, which have a harder compound in view of the upcoming Trento–Bondone. We also tested for the first time the new suspensions developed and built by Oram, with very good results."

Race 1
Merli wins immediately in 2'41"18. Faggioli is 1"42 behind, Zardo with the other Norma 4"40. A closely-fought battle. Filippo Golin claimes third in the class.
Race 2
Merli wins again, now in record time, followed by Faggioli and Zardo. Filippo Golin with the small Osella snatches his class and finishes 2nd on accumulated times.

The podium of Race 1
1st Merli (Osella FA 30 Zytek LRM), 2nd Faggioli (Norma M20 FC) 1"42 behind, 3rd Zardo (Norma M20 FC) 4"40 behind.

The podium of Race 2
1st Merli (Osella FA 30 Zytek LRM), 2nd Faggioli (Norma M20 FC) 1"96 behind, 3rd Zardo (Norma M20 FC) 4"82 behind.

The podium on accumulated times
1st Merli (Osella FA 30 Zytek LRM), 2nd Faggioli (Norma M20 FC) 3"40 behind, 3rd Zardo (Norma M20 FC) 9"22 behind.

Ruth Scheithauer

Appuntamenti
>Christian domenica in gara in Croazia
Foto & Video
2020 MERLI 1 CROAZIA