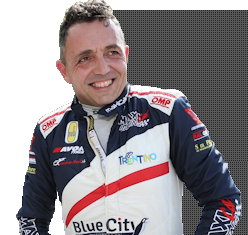 Cem
lun 1 lug 2019
Christian Merli wins at Ascoli
Scuderia Vimotorsport driver Christian Merli wins the 58th edition of the Coppa Paolino Teodori at Ascoli, the 6th round of the Italian hill climb championship CIVM. Simone Faggioli finishes second. In his official Osella FA 30 Zytek LRM the Team Blue City Motorsport leader from Trentino thus conquers the seventh victory at his seventh race this season, five in the European Hill Climb Championship and two in the Italian championship. He had also stood on the winner's step at the previous two editions of the central Italy race. This win marks a change in the Italian championship season, where the first five rounds had seen five different winners. No one had secured two wins in a row.
Christian, the seventh winner's cup
"Everything's fine, and it was a great race. We made changes at every run in preparation for the Trento–Bondone, our local hill. A difficult victory, which makes it all the more special. My car was perfect the entire weekend. I realised that I had to pull out all the stops today, and I did. In Race 2 I tried to find some extra speed because Simone was ready to attack. He came very close, and going for the victory at the Trento–Bondone will be very hard. We will try, giving our best as always".
7 out of 7
After his five wins in the European Hill Climb Championship – France, Austria, Portugal, Spain and Czech Republic, with four new track records – Christian Merli was required by the championship regulations to discard the results of one race in the first half of the season. So he skipped Glasbach in Germany to return to Italy, and won both Morano and Ascoli. Up next, on Sunday, the Trento–Bondone.

Practice
In the first official practice run, Merli is ahead of everyone in 2'08"74. Second is Simone Faggioli at the wheel of his Norma M20 FC, 7"34 behind, third Vacca with his Osella PA 2000. In the afternoon, still under the burning sun, Christian leads in 2'09"32, with Faggioli 3"36 behind and Vacca 8"07. But this is practice, where there is always someone who lifts his foot before the finish line.
Race 1
Christian Merli leaves the start line after 2pm. The champion from Trentino wins in 2'07"88, just above his own record. Faggioli follows 1'56 behind, Zardo (Norma M20 FC) 7"09 behind.
Race 2
Everything works perfectly and Christian clinches the victory. Faggioli is a mere 0"28 behind, Zardo 5"26.

The podium of Race 1
1st Merli (Osella FA 30 Zytek LRM), 2nd Faggioli (Norma M20 FC) 1"56 behind, 3rd Zardo (Norma M20 FC) 7"09 behind.

The podium of Race 2
1st Merli (Osella FA 30 Zytek LRM), 2nd Faggioli (Norma M20 FC) 0"28 behind, 3rd Zardo (Norma M20 FC) 5"26 behind.

The podium on accumulated times
1st Merli (Osella FA 30 Zytek LRM), 2nd Faggioli (Norma M20 FC) 1"84 behind, 3rd Zardo (Norma M20 FC) 12"35 behind.

Ruth Scheithauer
Appuntamenti
>Christian domenica in gara in Croazia
Foto & Video
2020 MERLI 1 CROAZIA