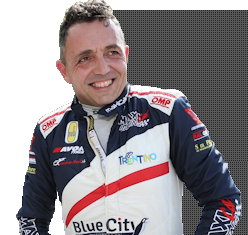 Cem
mar 2 lug 2019
Christian Merli on the 17.300 km track of the Trento–Bondone
Sunday 7 July will see the 69th edition of the Trento–Bondone. It is the 7th round of the European Hill Climb Championship and also counts for the Italian hill climb championship CIVM, the northern Italy hill climb trophy and the FIA Historic Hill Climb Championship. It is organised by the Scuderia Trentina in collaboration with the Automobile Club Trento. Christian Merli will be tackling his local hill with his Osella FA 30 Zytek LRM. Administrative checking and scrutineering take place in Piazza Dante in Trento from 12.30 to 19.30 on Friday. Official practice starts at 9.00 on Saturday, with the road being closed an hour before. On Sunday, the road closes at 9.00, and the single race heat begins at 10.00.
From Montevideo to Vason
Along the 17.300 km track, which has an altitude difference of 1350 m, there are 42 hairpins and more than 180 bends. The race is unique in Europe, and it is a tough test both for the cars and for the drivers' physical stamina. A hill climb race where managing the tyres, the engine and the brakes demands the utmost attention. Ten, fifteen minutes of maximum concentration.
Christian Merli's 2019 season
Seven victories in seven races – five in the European championship and two in the Italian championship. Merli triumphs at the European championship races in France, Austria, Portugal, Spain and the Czech Republic, establishing no fewer than four new track records in the process. In Italy he wins at Morano, setting a new record, and last Sunday at Ascoli, in the Coppa Teodori.
The interview with the Team Blue City Motorsport leader
"It's a love-hate relationship for me, but it's our local hill, where Faggioli has always been very strong. I'm quite relaxed, considering this year's results so far, and I certainly won't despair if I shouldn't take the overall win. It's a long, demanding race, where it's important for us to win the Group E2-SS for the European championship points. We struggle in the slow races compared with our opponents, and I trust in the new Avon tyres which won't be arriving until Friday. We'll do our best as always. The most critical section for us? From Candriai to Vason, where we arrive with the tyres extremely heated and we struggle exiting from the hairpins."

The track record
The record holder at the Hill Climb University, as Mauro Nesti called it, is Simone Faggioli. With his Norma M20 FC, he saw the clocks stop on 9'00"52 in 2017, which corresponds to an average speed of 115.2 km/h. Faggioli has won this race nine times.
Christian Merli, winner in 2018
It had been exactly 48 years since a Trentino driver last climbed on the top step of the podium. In 1970, Antonio Zadra took the victory at the wheel of a Fiat Abarth 2000.

Livestream of the race
The race will be streamed live on www.trentobondone.it.

The European Hill Climb Championship calendar
14 April: Col Saint Pierre (France) winner Merli, 28 April: Rechbergrennen (Austria) winner Merli, 12 May: Rampa Internacional da Falperra (Portugal) winner Merli, 19 May: Subida al Fito (Spain) winner Merli, 2 June: Ecce Homo (Czech Republic) winner Merli, 16 June: Glasbachrennen (Germany) winner Lampert, 7 July: Trento–Bondone (Italy), 21 July: Dobsinsky Kopec (Slovakia ), 28 July: Limanowa (Poland), 18 August: Course de Côte de Saint Ursanne (Switzerland), 1 September: Bistrica (Slovenia), 15 September: Buzetski Dani (Croatia).

Ruth Scheithauer
Appuntamenti
>Christian domenica in gara in Croazia
Foto & Video
2020 MERLI 1 CROAZIA