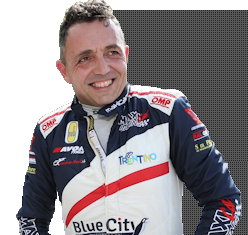 Cem
mar 9 lug 2019
Trento–Bondone classification torn apart by the storm
"After thunder comes the rain." A phrase attributed to Socrates, which alludes to an expected event inevitably materialising. And indeed, the storm forecast to hit Vason on Sunday arrives with Swiss punctuality. At 16.00, when most cars have already raced in the dry and it is the turn of the E2-SC, the clouds burst. Thunder, lightning, hail and wind. The race is temporarily supended, and the "Wet Race" sign comes out. The drivers of the open sports cars waiting in the staging line return to the paddock to switch from slicks to rain tyres. Restart at 17.20. The torrential rain in mid-afternoon has completely overturned the outcome of the race, cutting it in two. An unusual podium: Faggioli has won on rain tyres, while the other two excellent drivers, Dondi and Ghezzi, have been able to race in the dry. Christian Merli finishes seventh, but his Osella FA 30 Zytek LRM switched itself off three times on the last few kilometres. At the splits, the two major European players had been level. Christian had opted for intermediate tyres, and it might have paid off. He brings the car to a halt a few metres after the finish line. However, although ticked off, he wins Group E2-SS, bagging full European championship points.
The 69th edition of the Trento–Bondone
The Trento–Bondone was the 7th round of the European Hill Climb Championship and also counted for the Italian hill climb championship CIVM, the northern Italy hill climb trophy and the FIA Historic Hill Climb Championship. Christian Merli was racing up his local hill with his Osella FA 30 Zytek LRM. The single race heat began at 10.00.
From Montevideo to Vason
Along the 17.300 km track, which has an altitude difference of 1350 m, there are 42 hairpins and more than 180 bends. The race is unique in Europe, and it is a tough test both for the cars and for the drivers' physical stamina. A hill climb race where managing the tyres, the engine and the brakes demands the utmost attention. Ten, fifteen minutes of maximum concentration.
The interview with Team Blue City Motorsport leader Christian Merli
"There had been the expectation of a good race. In the dry it would have been very hard for me, but eventually in the humid things were different. I went for the intermediates, and it was difficult in the first section, but towards the end I could have accelerated coming out of the hairpins and gained precious speed and tenths of a second, because it was dry. I think it wasn't like that for Faggioli, who had chosen wets. We were equal at the splits until a few kilometres before Vason. Unfortunately I then had a technical problem. The oil pressure went down, and when it goes below a certain level, sensors cause the engine to switch off to prevent further damage. It even went out three times, and I lost about 30 seconds. It's a shame, it was a trivial issue. It has been a very stressing two days of race. Having 310 drivers is certainly not easy for the clerk of the course. Who knows, but perhaps the race should have started earlier for a good success of the event. The Trento–Bondone is really special; in all other European championship races the tracks are between 5 and 7 kilometres long. I agree with Simone Faggioli when he says that this race should be a separate event, because it's unique in the world."
Christian Merli's 2019 season
Seven victories in seven races – five in the European championship and two in the Italian championship. Merli triumphs at the European championship races in France, Austria, Portugal, Spain and the Czech Republic, establishing no fewer than four new track records in the process. In Italy he wins at Morano, setting a new record, and at Ascoli, in the Coppa Teodori.

The European Hill Climb Championship calendar
14 April: Col Saint Pierre (France) winner Merli, 28 April: Rechbergrennen (Austria) winner Merli, 12 May: Rampa Internacional da Falperra (Portugal) winner Merli, 19 May: Subida al Fito (Spain) winner Merli, 2 June: Ecce Homo (Czech Republic) winner Merli, 16 June: Glasbachrennen (Germany) winner Lampert, 7 July: Trento–Bondone (Italy) winner Faggioli, 21 July: Dobsinsky Kopec (Slovakia ), 28 July: Limanowa (Poland), 18 August: Course de Côte de Saint Ursanne (Switzerland), 1 September: Bistrica (Slovenia), 15 September: Buzetski Dani (Croatia).

Ruth Scheithauer
Appuntamenti
>Christian domenica in gara in Croazia
Foto & Video
2020 MERLI 1 CROAZIA