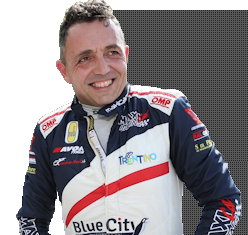 Cem
dom 21 lug 2019
Christian Merli 2nd in Slovakia
In the two practice runs on Saturday Faggioli and Merli split the lead between them. In the first race heat on Sunday Faggioli tops the timesheet with Merli close behind. During the second one, after Faggioli has run, heavy rain sets in. Merli, who starts last with the number 1, races on slicks in the rain and finishes third. On accumulated times the Osella works driver is second overall and first among the single-seaters. He takes home the 25 points for winning his group and continues to lead the standings of the European Hill Climb Championship, on a par with Faggioli.

The European championship regulations
The European Hill Climb Championship points are awarded based on the group classifications, and so Merli dominates Group E2-SS, the single-seaters, and Faggioli Group E2-SC, the two-seater sports cars. They have 175 points each. Christian Merli has been racing his Osella FA 30 Zytek LRM in Dobšiná in central Slovakia in the 36th edition of the Dobšinský kopec hill climb, the 8th round of the European Hill Climb Championship.
Christian's comments after the race
"Unfortunately I got into the rain at the start, and I was racing on slicks. I saved what I could and managed to win the group. I was very determined in the second heat, but it didn't go as I'd expected. Now we're going to Limanowa in Poland for the ninth round of the championship, and we are hoping for good weather."

Practice
The track is humid during the first official practice run on Saturday. Faggioli in his Norma M20 FC clocks the fastest time, followed by the Team Blue City Motorsport leader, who is only 0"162 behind. Heavy rain hits the second run, and practice is temporarily suspended at 2.45 pm. When it is restarted, the track is wet and the drivers have mounted the intermediates. Merli finishes 5"892 ahead of Faggioli.

Race heat 1
Sun and a dry track for the first race heat, where Faggioli edges Merli by 0"610.
Race heat 2
It rains, and the heat gets postponed by an hour and a half. After around 90 cars have taken the start, the red flag comes out again. The race is restarted on a humid track shortly after 4pm. Faggioli sees the clocks stop on 2'18"447, and then the rain returns once more. Christian comes in 3rd in 2'33"004, winning Group E2-SS.

The podium of race heat 1
1st Faggioli (Norma M20 FC), 2nd Merli (Osella FA 30 Zytek LRM) 0"610 behind, 3rd Lampert (Osella FA 30) 8"612 behind.

The podium of race heat 2
1st Faggioli (Norma M20 FC), 2nd Vondrak (Osella PA 21) 14"216 behind, 3rd Merli (Osella FA 30 Zytek LRM) 14"557 behind.

The podium on accumulated times
1st Faggioli (Norma M20 FC), 2nd Merli (Osella FA 30 Zytek LRM) 15"167 behind, 3rd Vondrak (Osella PA 21) 15"700 behind.

The European Hill Climb Championship calendar
14 April: Col Saint Pierre (France) winner Merli, 28 April: Rechbergrennen (Austria) winner Merli, 12 May: Rampa Internacional da Falperra (Portugal) winner Merli, 19 May: Subida al Fito (Spain) winner Merli, 2 June: Ecce Homo (Czech Republic) winner Merli, 16 June: Glasbachrennen (Germany) winner Lampert, 7 July: Trento–Bondone (Italy) winner Faggioli, 21 July: Dobšinský kopec (Slovakia) winner Faggioli, 28 July: Limanowa (Poland), 18 August: Course de Côte de Saint Ursanne (Switzerland), 1 September: Bistrica (Slovenia), 15 September: Buzetski Dani (Croatia).

Ruth Scheithauer
Appuntamenti
>Christian domenica in gara nella 46ª edizione Alpe del Nevegal a Belluno
Foto & Video
Alpe del Nevegal