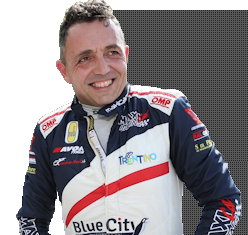 Cem
dom 28 lug 2019
Christian Merli finishes 2nd at Limanowa in Poland
Christian Merli takes the second step of the podium in the 11th edition of the Hill Climb Limanowa in Poland, the 9th round of the European Hill Climb Championship. The victory in the combined times classification falls to Simone Faggioli, who edges the Osella FA 30 Zytek LRM works driver by 0"577 overall. In the second race heat Faggioli is only 0"034 ahead. The two protagonists of the European championship continue to lead their respective groups at 200 points each: the Team Blue City Motorsport leader is dominating Group E2-SS, the single-seaters, and Norma driver Faggioli Group E2-SC, the two-seater sports cars. A closely-fought battle in the two race heats on the 5.493 km track.
Christian's comments
"First of all, congratulations to Simone Faggioli, who had a fantastic race today. The roles have been reversed this year, and our team had a difficult weekend. On Saturday we missed two runs because of electric problems. In the first race heat I didn't have the right feeling in the car; it was skidding a lot. When I got to the finish line I checked the pressure of the tyres, and that of the rear right one was significantly lower. Of course it was very warm; perhaps I should have gone for harder tyres. Before the second race heat I made some changes to the wing. At the finish line the car switched itself off and on again. I'm disappointed, because my times are worse than last year. Now we have to find out what the problem is."

Practice
In the first official practice run, Simone Faggioli sees the clocks stop on 2'02"578. Lampert and Degasperi finish 2nd and 3rd, respectively, whereas Christian does not take the start due to an electric problem. In the second session, the Scuderia Vimotorsport driver claims top spot in 1'55"566, followed by Lampert, with Faggioli and his Norma M20 FC third. In the second free practice session towards the evening, Merli is first in 1'53"842 and 5"591 ahead of Faggioli.
Sunday warm-up
On Sunday, the third free practice session on a sunny track. Merli finishes ahead of Faggioli and Lampert.

Race heat 1
Faggioli wins in 1'51"693, 0"543 ahead of Christian.

Race heat 2
Faggioli tops the timesheet with Merli only 0"034 behind. In the combined times classification Faggioli is first in 3'44"424; Merli is 0"577 behind and Lampert 13"726.

The podium of race heat 1
1st Faggioli (Norma M20 FC), 2nd Merli (Osella FA 30 Zytek LRM) 0"543 behind, 3rd Lampert (Osella FA 30) 7"260 behind.

The podium of race heat 2
1st Faggioli (Norma M20 FC), 2nd Merli (Osella FA 30 Zytek LRM) 0"034 behind, 3rd Lampert (Osella FA 30) 6"466 behind.

The podium on accumulated times
1st Faggioli (Norma M20 FC) in 3'44"424, 2nd Merli 0"577 behind, 3rd Lampert 13"726 behind.

The European Hill Climb Championship calendar
14 April: Col Saint Pierre (France) winner Merli, 28 April: Rechbergrennen (Austria) winner Merli, 12 May: Rampa Internacional da Falperra (Portugal) winner Merli, 19 May: Subida al Fito (Spain) winner Merli, 2 June: Ecce Homo (Czech Republic) winner Merli, 16 June: Glasbachrennen (Germany) winner Lampert, 7 July: Trento–Bondone (Italy) winner Faggioli, 21 July: Dobšinský kopec (Slovakia) winner Faggioli, 28 July: Limanowa (Poland) winner Faggioli, 18 August: Course de Côte de Saint Ursanne (Switzerland), 1 September: Bistrica (Slovenia), 15 September: Buzetski Dani (Croatia).

Ruth Scheithauer
Appuntamenti
>Christian domenica in gara nella 46ª edizione Alpe del Nevegal a Belluno
Foto & Video
Alpe del Nevegal