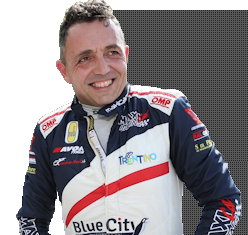 Altre gare
lun 5 ago 2019
Christian Merli wins at Osnabrück in Germany
Christian Merli conquers the top step of the podium at the Int. 52nd Hill Climb Race Osnabrück west of Hannover in Germany, the 5th round of the FIA Int. Hill Climb Cup. Among 211 participants the European champion dominates both practice and race behind the wheel of his Osella FA 30 Zytek LRM and establishes a new track record. He thus secures his eighth win this season. The event is contested over four practice and four race runs on 2.030 km, a short track where no errors are allowed.
Christian, record and victory
"It was by no means easy, we've had a day full of problems. In the first race heat I went for used tyres, then just before the finish line the oil warning light came on. I was immediately reminded of the issues we'd had in the last few races, but thanks to Giuliano, Cinzia and the team we found out that it was only a sensor. In the second heat, with new tyres, the car was sliding at the front and I didn't think it was going to be a record. In the third run, we were stopped by the red flag, so we had to return to the start and retake the heat. In the fourth one there was a scare in the first bend when I started skidding. A great crowd, and a fantastic organisation led by Bernd Stegmann. My compliments to the entire organisation staff."
Practice
In the four practice heats on Saturday, of which three official and one free, it is the Scuderia Vimotorsport driver who is calling the shots. Two kilometres in 50 seconds. To be exact, Merli's best time is 50"455. Frenchman Sébastien Petit, who had won the previous edition, is 1"048 behind.
The race
On Sunday the sun is out right from the start of the first race heat. The Team Blue City Motorsport leader finishes in 50"371. In the second race heat, he sets a new record of 50"055, breaking Frenchman Sébastien Petit 50"145 record from 2018. In the third session, a driver runs off the track while Merli is racing, the red flag comes out and he returns to the start line. This time he finishes in 50"434. A moment of suspense in the fourth run when Merli's Osella starts sliding in the first bend. Rally driver at heart, he manages to keep it on track and tops the timesheet in 51"171.

The final podium on accumulated times
1st Merli (Osella FA30 Zytek LRM), 2nd Steiner (LobArt LA01), 3rd Petit (Norma M20 FC).

Ruth Scheithauer
Appuntamenti
>Christian domenica in gara nella 46ª edizione Alpe del Nevegal a Belluno
Foto & Video
Alpe del Nevegal