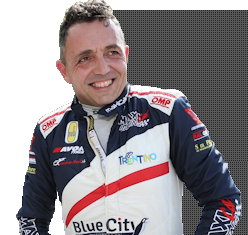 Civm
lun 26 ago 2019
Victory and record for Christian Merli at Gubbio
At the wheel of his Osella FA 30 Zytek LRM Christian Merli wins the 54th Trofeo Fagioli in central Italy, the 9th round of the Italian hill climb championship CIVM, which leads from Gubbio up to Madonna della Cima. In Race 1 Merli sets a new track record beating Simone Faggioli by seven hundredths of a second; in Race 2 he finishes first under the rain. After the two runs on the 4.150 km track, he is ahead of Simone Faggioli and Denny Zardo (both Norma M20 FC). The Team Blue City Motorsport leader has raced in four CIVM rounds this season, winning at Morano, Ascoli and Gubbio; at the Trento–Bondone he finished seventh after his engine had suddenly kept switching off.
Christian, the ninth victory this season
"It has been a fantastic weekend, where we dominated both in practice and in the race. This morning we broke the track record and finished just seven hundredths of a second ahead of Faggioli. In the afternoon it started to rain, and our Avon rain tyres showed a definite improvement. We're more than happy. We needed this. Now we're going to Slovenia for the 11th round of the European championship."
Practice
In the first practice session Merli is 1"27 ahead of Faggioli and 5"76 of Omar Magliona (Osella PA21 Evo 2000), the leader of the Italian championship standings. In the second session he is first in 1'32"94, with Faggioli 1"61 behind and Denny Zardo 5"01 behind.
Race 1
Merli wins, setting a new track record at 1'32"31. Faggioli follows only seven hundredths of a second behind. Zardo comes in third, 3"86 behind.

Race 2
Rain sets in around 2pm. The race is suspended for over an hour and then restarted in the wet. The clerk of the course declares "Wet race", and the rain tyres come on. However, the ranking remains unchanged and Christian dominates Race 2, with Faggioli 3"21 behind and Zardo 7"36.

The podium of Race 1
1st Merli (Osella FA 30 Zytek LRM), 2nd Faggioli (Norma M20 FC) 0"07 behind, 3rd Zardo (Norma M20 FC) 3"86 behind.

The podium of Race 2
1st Merli (Osella FA 30 Zytek LRM), 2nd Faggioli (Norma M20 FC) 3"21 behind, 3rd Zardo (Norma M20 FC) 7"36 behind.

Ruth Scheithauer
Appuntamenti
>Christian domenica in gara nella 46ª edizione Alpe del Nevegal a Belluno
Foto & Video
Alpe del Nevegal