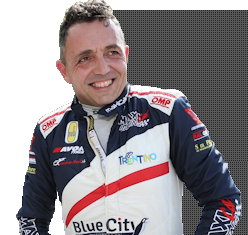 Cem
dom 1 set 2019
Christian Merli is European Champion 2019
Christian Merli is European Hill Climb Champion 2019. At the 25th edition of the Ilirska Bistrica hill climb in Slovenia, the 11th round of the European championship, the Scuderia Vimotorsport driver finishes second overall in his Osella FA 30 Zytek LRM, behind Simone Faggioli and his Norma M20 FC. However, Merli has won the single-seater group E2-SS in every single race and thus secures the European championship title together with Faggioli, who has dominated Group E2-SC. Team Blue City Motorsport leader Merli has conquered the top step of the podium in France, Austria, Portugal, Spain and the Czech Republic, Faggioli in Italy, Slovakia, Poland, Switzerland and Slovenia. Five overall wins for each of the two major hill climb drivers. At Trento in November, Merli and Faggioli will both be awarded the FIA European Hill Climb Championship trophy. It is the first time that there will be two overall champions, but the season has certainly seen an extremely close fight all the way through. With 250 points each, the two drivers now have to drop the result of one race, and so they will skip the event in Croatia.
Christian, five wins each, and the European title
"Finally, and we're extremely happy. We've battled against a multiple champion, and the season ends in the best possible way. Today it was important for me to win the group. It has really been a fantastic season, with five wins each at the end. For the first time there will be two overall champions, and I'm happy for our entire team and for our sponsors."
Practice
On Saturday morning Christian Merli finishes first on the 5.010 km track, with Faggioli 1"314 behind. In the second run, Merli is even 2"173 ahead of Faggioli. In the third session, the French driver Geoffrey Schatz at the wheel of his Norma M20 FC tops the timesheet, followed by Faggioli in 2'00"788, with Merli third, 1"232 behind the leader. However, Schatz is not eligible for European championship points, and thus it is Faggioli who claims the best time in the three sessions, with Merli 1"055 behind.

Race heat 1
Faggioli sets a new track record at 1'57"469, followed by Schatz. Merli is third, 1"641 behind, first among the single seaters.
Race heat 2
Faggioli wins in 1'57"607; Merli dominates Group E2-SS.

The European championship podium on accumulated times
1st Faggioli (Norma M20 FC), 2nd Merli (Osella FA 30 Zytek LRM) 3"859 behind, 3rd Lampert (Osella FA 30) a 11"266 behind.

The European Hill Climb Championship calendar
14 April: Col Saint Pierre (France) winner Merli, 28 April: Rechbergrennen (Austria) winner Merli, 12 May: Rampa Internacional da Falperra (Portugal) winner Merli, 19 May: Subida al Fito (Spain) winner Merli, 2 June: Ecce Homo (Czech Republic) winner Merli, 16 June: Glasbachrennen (Germany) winner Lampert, 7 July: Trento–Bondone (Italy) winner Faggioli, 21 July: Dobšinský kopec (Slovakia) winner Faggioli, 28 July: Limanowa (Poland) winner Faggioli, 18 August: Course de Côte de Saint Ursanne (Switzerland) winner Faggioli, 1 September: Bistrica (Slovenia) winner Faggioli, 15 September: Buzetski Dani (Croatia).

Ruth Scheithauer
Appuntamenti
>Christian domenica in gara nella 46ª edizione Alpe del Nevegal a Belluno
Foto & Video
Alpe del Nevegal