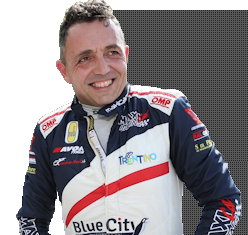 Civm
lun 16 set 2019
Christian Merli 2nd at Erice
Christian Merli in his Osella FA 30 Zytek LRM finishes second in both Race 1 and Race 2 of the 61st Cronoscalata Monte Erice in Sicily, the third-to-last round of the Italian hill climb championship CIVM. Simone Faggioli (Norma M20 FC) claims the victory on the 5.730 km track. New European champion Merli has now joined the CIVM, winning at Morano in Calabria, at the Coppa Teodori at Ascoli, and at the Trofeo Fagioli in Umbria. The final three events – Erice, Coppa Nissena and Pedavena – all have a points coefficient of 1.5. Each of the two race heats at each event is thus valid 15 points, not just 10 as usual. The results of one of the three events will be dropped.
Christian's comments
"This morning it was quite warm, and the asphalt was dirty and slippery. I didn't get into the right rhythm and I was sure that I'd been slower than in practice. In Race 2, with used tyres, it was even worse, and after one kilometre I touched a low wall with the rear wing. What can I say? Mathematically we're still in the running, but to win the title we'd have to win all four remaining CIVM heats, at the Coppa Nissena at Caltanissetta next Sunday and at Pedavena in mid-October, whereas Simone needs only one more win. We'll see."

Practice
In the first practice heat on Saturday Faggioli in his Norma M20 FC clocks the best time, followed by Cubeda. Merli is third, 3"82 behind. In the second run Merli tops the timesheet, 3"86 ahead of Faggioli and 8"77 ahead of Cubeda.
Races 1 and 2
In Race 1 Faggioli sets a new track record in 2'50"40. Merli follows 1"98 behind. The second race is a carbon copy of the first; Faggioli wins 2"24 ahead of Merli and 6"88 ahead of Cubeda.

The podium of Race 1
1st Faggioli (Norma M20 FC), 2nd Merli (Osella FA 30 Zytek LRM) 1"98 behind, 3rd Cubeda (Osella FA 30) 7"59 behind.

The podium of Race 2
1st Faggioli (Norma M20 FC), 2nd Merli (Osella FA 30 Zytek LRM) 2"24 behind, 3rd Cubeda (Osella FA 30) 6"88 behind.

The calendar of the 2019 Italian hill climb championship CIVM
14 April: Luzzi – Sambucina (Calabria) winner Cubeda, 28 April: Trofeo Scarfiotti (Marche) winner Fattorini, 19 May: Alpe del Nevegal (Belluno province) winner Magliona, 2 June: Verzegnis – Sella Chianzutan (Friuli Venezia Giulia region) winner Zardo, 16 June: Salita Morano – Campotenese (Calabria) winner Merli, 30 June: Coppa Paolino Teodori (Marche) winner Merli, 7 July: Trento – Bondone (Trentino) winner Faggioli, 28 July: Rieti – Terminillo (Lazio) winner Magliona, 25 Aug: Trofeo Luigi Fagioli (Umbria) winner Merli, 15 Sept: Monte Erice (Sicily) winner Faggioli, 22 Sept: Coppa Nissena (Sicily), 20 Oct: Pedavena – Croce d'Aune (Veneto)

Ruth Scheithauer

Appuntamenti
>Christian domenica in gara nella 46ª edizione Alpe del Nevegal a Belluno
Foto & Video
Alpe del Nevegal