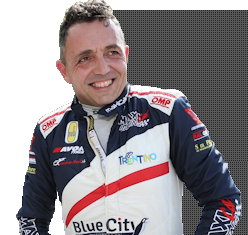 Civm
lun 23 set 2019
Christian Merli 2nd at the Coppa Nissena
Christian Merli in his Osella FA 30 Zytek LRM finishes the Italian hill climb championship season in second place overall.
He is Italian champion in Group E2-SS, the single-seaters.
Fighting until the finish line of the 65th edition of the Coppa Nissena at Caltanissetta in Sicily, Team Blue City Motorsport leader Christian Merli gets beaten by Simone Faggioli by only 98 hundredths of a second in Race 1; in Race 2 Merli reduces the gap to only 11 hundredths.
The Italian hill climb championship 2019 goes to Simone Faggioli in his Norma M20 FC. Merli is vice champion and wins the championship title in the single-seater group. After securing the European championship title, the Scuderia Vimotorsport driver had rejoined the Italian championship, winning at Morano in Calabria, at the Coppa Teodori at Ascoli, and at the Trofeo Fagioli in Umbria.
Christian's comments
"In Race 1 I committed a few minor errors. I could have done better. In Race 2 at one point the gears wouldn't change. It's a shame, because I could have made it. The overall championship title is now mathematically beyond our reach, but I've won Group E2-SS. So much effort, and I tried my hardest right up to the finish line. Huge thanks to all those who have been close to me. It was a very fast race, quite extreme, with only a few corners at the start and then a series of fast double bends."

Practice
In the first practice session on Saturday the track is still dirty from the heavy rain the night before. Merli sees the clocks stop on 1'58"97, Faggioli is 3"66 behind, Domenico Cubeda 3"73, in another Osella FA 30. In the second practice run of this hill climb race which the top drivers call "extreme", Osella works driver Merli turns up the heat and finishes in 1'54"51. Faggioli is 1"97 behind, Cubeda 7"46. Omar Magliona with his Osella PA 21 is fifth, 10"51 behind.

The race
In Race 1 Faggioli sets a new track record in 1'51"82; Christian is only 98 hundredths of a second behind. Conticelli and Cubeda (both Osella FA 30) follow; Magliona is fifth, 10"44 behind. In Race 2 the ranking is identical, with Faggioli topping the timesheet, only 0"11 ahead of Merli.

The overall championship standings after 11 rounds
Faggioli 125 points, Merli 109, Magliona 106.

The podium of Race 1
1st Faggioli (Norma M20 FC), 2nd Merli (Osella FA 30 Zytek LRM) 0"98 behind, 3rd Conticelli (Osella FA 30) 8"04 behind.

The podium of Race 2
1st Faggioli (Norma M20 FC), 2nd Merli (Osella FA 30 Zytek LRM) 0"11 behind, 3rd Conticelli (Osella FA 30) 5"84 behind.

The calendar of the 2019 Italian hill climb championship CIVM
14 April: Luzzi – Sambucina (Calabria) winner Cubeda, 28 April: Trofeo Scarfiotti (Marche) winner Fattorini, 19 May: Alpe del Nevegal (Belluno province) winner Magliona, 2 June: Verzegnis – Sella Chianzutan (Friuli Venezia Giulia region) winner Zardo, 16 June: Salita Morano – Campotenese (Calabria) winner Merli, 30 June: Coppa Paolino Teodori (Marche) winner Merli, 7 July: Trento – Bondone (Trentino) winner Faggioli, 28 July: Rieti – Terminillo (Lazio) winner Magliona, 25 Aug: Trofeo Luigi Fagioli (Umbria) winner Merli, 15 Sept: Monte Erice (Sicily) winner Faggioli, 22 Sept: Coppa Nissena (Sicily) winner Faggioli, 20 Oct: Pedavena – Croce d'Aune (Veneto)

Ruth Scheithauer
Appuntamenti
>Christian domenica in gara nella 46ª edizione Alpe del Nevegal a Belluno
Foto & Video
Alpe del Nevegal