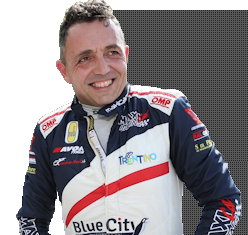 Cem
lun 13 mag 2019
Victory for Christian Merli in Portugal
Osella works driver Christian Merli wins the 40ª Rampa Internacional da Falperra, setting a new track record in his FA 30 Zytek LRM. It is the 3rd round of the European Hill Climb Championship. Thus after France and Austria, the Team Blue City Motorsport leader conquers the top step of the podium also in Braga in Portugal, breaking the third record in three events. The Scuderia Vimotorsport driver had already improved the record on the 5,200 km track in 2018. Now it stands at 1'46"944.
The winner's comments
"Excellent. We are very happy with our result, and also happy for Christoph Lampert. We'll try to continue in this way. A number of little changes and updates have allowed us to score these records and victories. Tomorrow we'll start working on the two cars again and then we're going to Spain for the 4th round of the European championship, the Subida al Fito north of Oviedo."

Practice
Clement weather conditions for the first official practice run on Saturday, where Christian Merli, in 1"52"709, immediately takes the lead in his Osella FA 30, 3"764 ahead of Faggioli (Norma M20 FC). Third spot on the timesheet goes to the other Team Blue City Motorsport driver, Lampert. In the second practice session, Merli posts again the best time in 1'50"237. He dominates the third run too, outpacing Faggioli by 3"061.
The race
Three race heats scheduled on Sunday, of which the best two are added up for the European championship classification. In the first session, Christian Merli immediately sets the extraordinary new record in 1'46"944. Faggioli is 2"040 behind, and bronze is taken by Christoph Lampert in the FA 30 prepared by Christian's team. In the second race run, Christian clocks again the best time, followed by Faggioli. There is no third heat for them. Thus Merli clinches victory in Portugal. It is his third win in three races. And his third record.

The podium on accumulated times
1st Merli (Osella FA 30 Zytek LRM), 2nd Faggioli (Norma M20 FC) 3"390 behind, 3rd Lampert (Osella FA 30) 9"250 behind.

The European Hill Climb Championship calendar
14 April: Col Saint Pierre (France), 28 April: Rechbergrennen (Austria), 12 May: Rampa Internacional da Falperra (Portugal), 19 May: Subida al Fito (Spain), 2 June: Ecce Homo (Czech Republic), 16 June: Glasbachrennen (Germany), 7 July: Trento – Bondone (Italy), 21 July: Dobsinsky Kopec (Slovakia ), 28 July: Limanowa (Poland), 18 August: Course de Côte de Saint Ursanne (Switzerland), 1 September: Bistrica (Slovenia), 15 September: Buzetski Dani (Croatia).

Ruth Scheithauer
Appuntamenti
Christian augura a tutti Buone Feste e v'attende sulla pista ghiacciata a Fiavè
Foto & Video
PREALPI MASTER SHOW