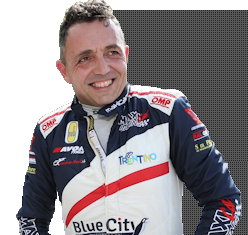 Civm
mer 16 ott 2019
Christian Merli racing at Pedavena
2019 European champion and Team Blue City Motorsport leader Christian Merli will be racing his factory-backed Osella FA 30 Zytek LRM on Avon tyres at the 37th Pedavena – Croce d'Aune hill climb in Belluno province on Sunday.
The two race heats in the Veneto region make up the final appointment of the Italian hill climb championship CIVM.
Final race of the season for Christian, weather permitting
"We have decided to participate to conclude the CIVM season. A pleasant event, close to home, and we definitely hope for better weather than the rain which is currently being forecast. The race? Two race heats on an enjoyable 7.785 km track. With tyres cold at the start, you get to a right-hand/left-hand double bend, then there are a few straight stretches with pretty fast corners. Eight narrow hairpins with straight sections in between, and some more fast, sloping bends. The gradient is also quite high".
The calendar of the 2019 Italian hill climb championship CIVM
14 April: Luzzi – Sambucina (Calabria) winner Cubeda, 28 April: Trofeo Scarfiotti (Marche) winner Fattorini, 19 May: Alpe del Nevegal (Belluno province) winner Magliona, 2 June: Verzegnis – Sella Chianzutan (Friuli Venezia Giulia region) winner Zardo, 16 June: Salita Morano – Campotenese (Calabria) winner Merli, 30 June: Coppa Paolino Teodori (Marche) winner Merli, 7 July: Trento – Bondone (Trentino) winner Faggioli, 28 July: Rieti – Terminillo (Lazio) winner Magliona, 25 Aug: Trofeo Luigi Fagioli (Umbria) winner Merli, 15 Sept: Monte Erice (Sicily) winner Faggioli, 22 Sept: Coppa Nissena (Sicily) winner Faggioli, 20 Oct: Pedavena – Croce d'Aune (Veneto)

Ruth Scheithauer

Appuntamenti
>Christian domenica in gara nella 59ª Alghero Scala Piccada in Sardegna
Foto & Video
59ª Alghero Scala Piccada