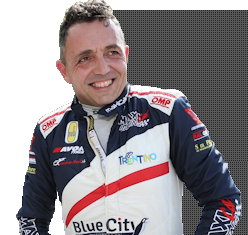 Cem
lun 16 apr 2018
Christian Merli 2nd at Col St. Pierre in France
Christian Merli, Team Blue City Motorsport leader at the wheel of the Osella FA 30, finishes second overall at the first race of the European Hill Climb Championship, the 46th edition of the Col Saint Pierre hill climb. On the 5.080 km track in Saint Jean du Gard in southern France he is runner-up in the final table, dominating Group E2-SS. Sébastien Petit in the Norma M20 FC grabs the overall win, with Simone Faggioli taking third place.
Christian's comments
"Excellent. We won the second race heat and broke the track record. In the first session we chose tyres that were too soft, but in the second they were perfect. We're going home with full points among the E2-SS. Compliments to Sébastien Petit, who won the race on his local hill. We are also very happy with the result of our team driver Christoph Lampert, who finished fifth overall at his 3000 cc debut.

Practice
Heavy rain and fog for the first official practice session on Saturday. Faggioli in his Norma M20 FC takes the lead in 2'41"057, while Christian is fourth, the fastest among the single-seaters, 9"188 behind. A slight drizzle in the second practice run. The champion from Trentino leads in 2'30"764, Faggioli is second, 0"177 behind.

Race heat 1
Faggioli gains the best time, improving the track record to 2'14"143. Petit finishes second, followed by Merli, 2"799 behind and first among the single-seaters.
Race heat 2
Merli wins, establishing a new absolute track record at 2'14"127 and beating the two Norma drivers, Petit and Faggioli.

The podium
Taking the two race heats together, Sébastien Petit wins, 0"173 ahead of Merli and 2"567 of Faggioli.

The European Hill Climb Championship calendar
15 April: Col Saint Pierre (France), 22 April: Rechbergrennen (Austria), 13 May: 39ª Rampa Internacional da Falperra (Portugal), 20 May: 47ª Subida al Fito (Spain), 3 June: Ecce Homo (Czech Republic), 10 June: Glasbachrennen 2018 (Germany), 24 June: Coppa Paolino Teodori (Italy), 22 July: 35ª Dobsinsky Kopec (Slovakia ), 29 July: Limanowa (Poland), 19 August: Course de Côte de Saint Ursanne (Switzerland), 2 September: Bistrica (Slovenia), 16 September: Buzetski Dani (Croatia).

Ruth Scheithauer
Appuntamenti
>Christian domenica in gara nella 46ª edizione Alpe del Nevegal a Belluno
Foto & Video
Alpe del Nevegal