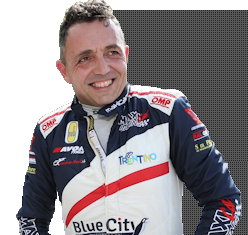 Cem
dom 22 apr 2018
Smashing victory for Christian Merli in Austria
Christian Merli, at the wheel of the Osella FA 30, takes the top step of the podium in the 2nd round of the European championship, the Rechbergrennen in Tulwitz, north of Graz. An event with two race heats of 5.050 km each, where the champion from Trentino triumphed in the last two years as well.
The Osella factory driver dominates the entire weekend. Behind him, Simone Faggioli in the Norma M20 FC.
The winner's comments
"Everything's fine, I like this race, and I've won for the third time in a row. Last year I broke the track record, but it was warm today and the track conditions had changed. I'm happy for all the people who are collaborating on this project, above all Giuliano Serafini, with whom I've worked through entire nights to get our car ready. Thank you to all the friends who are always willing to help me.
Turning to the race, there was no rain as per the forecast, and today we ventured to make some small changes to improve further. An excellent performance from our Austrian team driver Christoph Lampert in the FA 30, who finished 4th overall and 2nd among the single-seaters." It is worth recalling that Christian Merli holds the track record of 1'52"916, established last year.

Practice
In the first official practice session, the Team Blue City Motorsport leader sets the best time, 3"299 ahead of Faggioli and 6"325 of Sébastien Petit, in another Norma. Merli also tops the second and third sessions, 5"436 and 5"566, respectively,ahead of Faggioli.

Race heat 1
Christian Merli, racing for the Scuderia Vimotorsport, clearly dominates, finishing in 1'54"141 and thus 3"527 ahead of Faggioli.
Race heat 2
A carbon copy of the first run with Faggioli second, 3"063 behind.

The podium on accumulated times
1st Merli (Osella FA30) in 3'47"948, 2nd Faggioli (Norma M20 FC) in 3'54"538, 3rd Steiner (LobArt/Mugen LA01) in 3'58"761.

The European Hill Climb Championship calendar
15 April: Col Saint Pierre (France), 22 April: Rechbergrennen (Austria), 13 May: 39ª Rampa Internacional da Falperra (Portugal), 20 May: 47ª Subida al Fito (Spain), 3 June: Ecce Homo (Czech Republic), 10 June: Glasbachrennen 2018 (Germany), 24 June: Coppa Paolino Teodori (Italy), 22 July: 35ª Dobsinsky Kopec (Slovakia ), 29 July: Limanowa (Poland), 19 August: Course de Côte de Saint Ursanne (Switzerland), 2 September: Bistrica (Slovenia), 16 September: Buzetski Dani (Croatia).

Ruth Scheithauer
Appuntamenti
>Christian domenica in gara nella 46ª edizione Alpe del Nevegal a Belluno
Foto & Video
Alpe del Nevegal