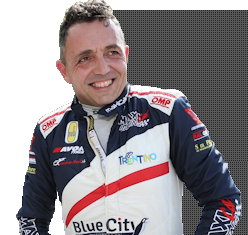 Cem
lun 11 giu 2018
Top step of the podium for Christian Merli in Germany
Rechberg, Ecce Homo and now Glasbach. In the sixth round of the European Hill Climb Championship, the 23th edition of the ADAC Glasbachrennen in Bad Liebenstein, Osella works driver Christian Merli claims his third overall victory, establishing a new track record in Germany too. He has clocked the fastest result each time this season. Three practice heats and three race heats, with each driver's best two times on the 5.500 km track being combined for the final classification.
Christian's words
"I am very happy, and I would like to thank those who are supporting me in this project. An excellent race, where I improved my record from last year. I have reached my goal, and now I am dropping the zero result from Spain. The first race heat was perfect, while in the second run I preferred not to take any risks, since the track was humid in places. Now a brief period of rest, then on 24 June we'll be racing in the Coppa Teodori in Ascoli, which counts for both the European and the Italian championships".
Practice
In the first official practice session, the Team Blue City Motorsport driver, who races for the Scuderia Vimotorsport, posts the best time in 2'01"802 with his Osella FA 30 Zytek LRM. Next Zajelsnik, 4"915 behind, and Petit, 8"290 behind, each with a Norma M20 FC. The second and third practice runs also see Christian leading each time, followed by Zajelsnik and Petit.

Race heat 1
Christian dominates, stopping the clocks on 1'58"395, which is yet another track record for him this season and 0"045 below the mark he set last year. Petit from France is second, Lampert from Austria third.
Race heat 2
Rain sets in after a number of touring cars have taken the start of the second race heat. The session gets interrupted until 1pm. The rain stops and the sun comes out again. On a track which is still humid in places, Christian finishes first in 2'01"246, followed by Petit and Lampert. During the third run the sky is partly cloudy. In view of his results from the first two runs, Christian decides to give this one a miss. In the overall classification of the German race, it is the Trentino champion who emerges victorious, followed by Petit and Lampert.

The podium
1st Merli (Osella FA 30 Zytek LRM), 2nd Petit (Norma M20 FC), 7"288 behind, 3rd Lampert (Osella FA 30), 8"956 behind.

The European Hill Climb Championship calendar
15 April: Col Saint Pierre (France) – winner Sébastien Petit (Norma M20 FC), 22 April: Rechbergrennen (Austria) – Christian Merli (Osella FA 30), 13 May: 39ª Rampa Internacional da Falperra (Portugal) – Simone Faggioli (Norma M20 FC), 20 May: 47ª Subida al Fito (Spain) – Simone Faggioli, 3 June: Ecce Homo (Czech Republic) – Christian Merli, 10 June: Glasbachrennen 2018 (Germany) – Christian Merli, 24 June: Coppa Paolino Teodori (Italy), 22 July: 35ª Dobsinsky Kopec (Slovakia), 29 July: Limanowa (Poland), 19 August: Course de Côte de Saint Ursanne (Switzerland), 2 September: Bistrica (Slovenia), 16 September: Buzetski Dani (Croatia).

Ruth Scheithauer
Appuntamenti
>Christian domenica in gara in Croazia
Foto & Video
2020 MERLI 1 CROAZIA